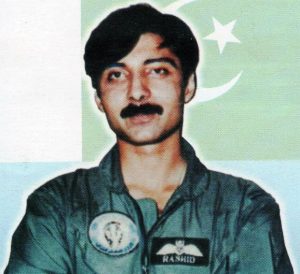 Rashid Memorial Welfare Organization (RMWO) was set up by a group of dedicated retired PAF officers in 1998 in memory of Flt. Lt. Rashid Ahmed Khan, who embraced 'Shahadat' on 13th December, 1997 when his aircraft caught fire above a densely populated area.
In a struggle to save thousands on the ground, he maneuvered his Mirage aircraft away from the thickly populated area but in the effort sacrificed his own life. In the same spirit RMWO was set up to dedicate and give to others what is not ours – our life through the spirit to help those who need it the most.
Rashidabad, a Pilot Project of RMWO, is located in interior Sindh, 35 KMs from Hyderabad towards Mirpur Khas on the main Hyderabad – Mirpur Khas Highway.
Spread over 100 acres, its Foundation Stone was laid on 13th  December 1998 by the then Governor Sindh, Lt.Gen. (R) Moinuddin Haider.  Rashidabad encompasses all four elements of a sustainable society: education, health, environment and socio-economics.
 With an initial humble donation of Rs. 25 Million by the Trustees, land was acquired gradually and then construction started as funds poured in.
RMWO is managed by a Board of Trustees all of whom are friends with a mission to change and uplift the under privileged.  RMWO is grateful to all its friends and donors from all over Pakistan and abroad for supporting it in this noble cause.
Alhamdolillah! The project has been quietly serving the poor and the underprivileged for over a decade now, enhancing their quality and capacity in the field of Education, Adult Literacy, Vocational training, Healthcare, and Female self-actualization and self-enfranchisement.   Rashidabad has already created an ever lasting impact on the social fabric of the region. Its three schools are catering to the needs of over two thousand students and it has afforded the surrounding population with employment opportunities for over 1200 people in various positions.
We invite one and all to join us in this humane and purposeful endeavor. We owe it to humanity and our beloved country Pakistan.
Share this Post on Social Media?